By Barry Bard for marijuana.com.
The billion-dollar US cannabis industry is a rising tide with no horizon in sight. And according to MJ Biz Daily's recent Factbook report, that tide is only growing stronger.
In 2016, combined adult-use and medical marijuana sales garnered US$4-4.5 billion in sales — or over one billion more than Americans spent on Viagra and Cialis or Paid Music Streaming Services.
Factoring in the regulated and black markets, the cannabis industry's estimated demand in the United States checks in at a cool $45-50 billion. Along with this economic impact, more jobs are being created: "The cannabis sector now employs between 165,000-230,000 full and part-time workers."
To put that in perspective, that's more cannabis employees than bakers and masseuses: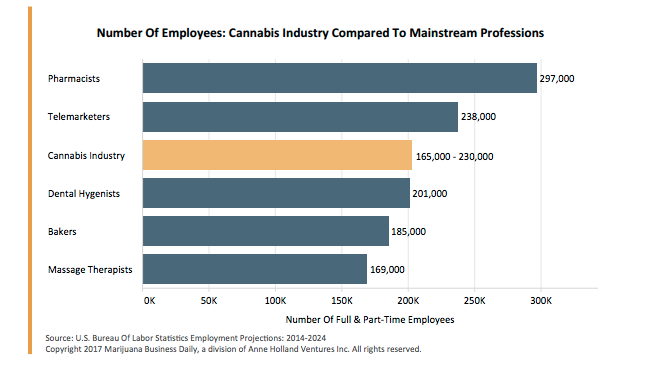 Perhaps the nation's quarter-century low unemployment rate should thank the cannabis industry?
Likewise, with recreational sales in Colorado and Washington up 66% in 2016 and more growth en route, those job numbers should continue to surge.
Moreover, the economic impact on communities with legal cannabis companies appears clearcut. For every dollar spent at an adult-use or medical dispensary, "another $3 in economic benefits are created in cities, states, and nationwide." That economic impact was $20-24 billion in 2016 and could increase to $70 billion by 2021.
With new businesses launching every day, construction on facilities sprouting up, and more money being invested in this industry, towns and cities with operating cannabis businesses should continue to provide more jobs. Just look to Adelanto, California for an example — a struggling desert town that went from $2.6 million in debt in 2014 to between $500,000 and $750,000 in debt today.
By allowing large cultivation facilities to be constructed, the town of Adelanto — once possibly disbanding due to financial strain — was literally rescued by the cannabis industry. The tide should only continue to rise.
As more states legalise, more towns like Adelanto should benefit from America's green savior.
This article originally appeared on marijuana.com. Read the original.