––––––––––
Pros
Strong 70min+ battery life
Even flow
Easy to clean
––––––––––
The Fury Edge Vape is a solid device available in Australia, manufactured by Healthy Rips, a company dedicated to make smoking healthier at prices everybody can afford. This newer Fury Edge model follows on from the well-loved Fury 2, and features a longer-lasting battery as well as the capacity to handle multiple attachments.
The vape comes with a standard glass mouthpiece attachment, but also corresponds with a wide range of accessories including a bent mouthpiece, bubble pipe or water pipe adapter. These attachments are available on the Healthy Rips site and can be used to enhance your vaping.
Another advantage that the Fury Edge Vape holds over the Fury 2, is a longer battery life. This enticing improvement means that a fully charged Fury Edge Vape can last for around 70 minutes! Keep in mind that this seventy minutes refers to actual smoking time, a significant hike from the 40 minutes featured in the Fury 2.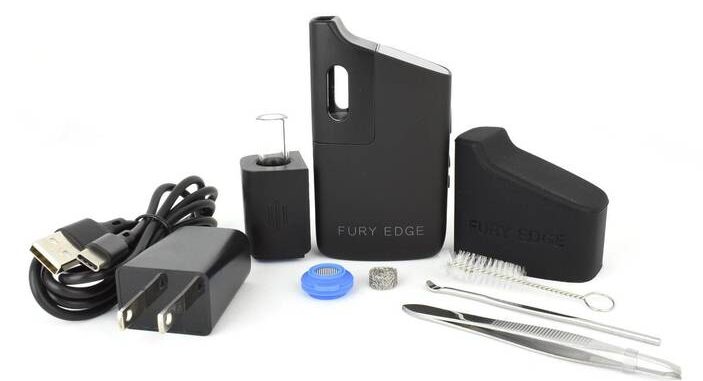 Strong Battery Life
One of the key issues with vaping is battery life, particularly if you are using CBD to try and quit smoking cigarettes. If you've been addicted to inhaling, you want to be sure that your device supports your new healthier lifestyle at every craving.
This means knowing that you're fully charged at all times, which is easier said than done if your battery life doesn't last. Fortunately, with the fury edge vaporizer you probably won't need to carry a power bank – as 70 mins is plenty of power to get you through the day.
The 2300 mAh battery charges super-fast with the USB-C charging method, particularly from the power point. In addition to the speedy charge time, USB-C charger has the added bonus of being pretty much globally compatible with commonly found chargers.
This means that if you forget to charge your vape and find yourself in a mini-crisis, you are likely to be able to borrow a charger quickly. However, this is the case for many vapes, so what really makes the Fury Edge stand out from the crowd is it's compact size that allows for magnificent plumes of vapour.
How To Use The Fury Edge Vape
Dynamite comes in small packages, and with Healthy Rip's Fury Edge you won't be struggling to inhale. The smooth pull is coupled with delicious clouds of vapour that rivals many contestant vapes within the same size category.
The chamber holds up to 0.2 grams of dry bud, a good amount for a single smoking session. If you prefer concentrates, it is possible to pair the Fury Edge with a liquid or wax pad, so you can have the best of both worlds.
The small, feature-packed Fury Edge is the size of a palm, a noteworthy 1 cm smaller than the Fury 2. With this in mind it is a pleasant surprise to learn that the Fury Edge features ground-breaking temperature controls and a lightweight chassis.
The user-friendly three-buttoned vape is easy to operate, and the device heats up in only 20 seconds. This is the result of Healthy Rip's patented Convection Technology which combines heated air convection with trace amounts of radiant heat, designed to provide you with the smoothest pull possible.
Final Verdict
At the end of the day, if the evenness of the draw is what you are looking for, along with a battery that lasts, the Fury Edge vape delivers for both of these. If you're after an entry-level, affordable portable vape, the Fury Edge might just be for you.
—
Key Features
| | |
| --- | --- |
| MANUFACTURING COMPANY | Healthy Rips |
| TYPE OF VAPE | Portable |
| TIME TAKEN UNTIL HEATED | 20 seconds |
| COMPATIBLE SUBSTANCES | Dry herb and concentrates |
| HOW LONG DOES THE BATTERY LAST? | 70 minutes |
| HEATING METHOD | Predominantly convection |
| DIMENSIONS | 5.2 cm x 2.7 cm x 9.1cm |
| TEMPERATURE | 140˚ C – 220˚ C |
| WEIGHT | 160g |
| POWER SOURCE | Battery |