––––––––––
Pros
Patented advanced heating technology
90 min+ battery life
Link to your phone with app
––––––––––
The Mighty Vaporizer is one of the best portable dry bud vapes on the market, and has stood the test of time for nearly four years. You can expect high vapour quality with the Mighty, and some even say it can rival certain desktop vapes.
High Quality Vapour
In fact, the performance of the Mighty is so impressive that it may seem like a no-brainer to those who only want to smoke dry bud. The vapour quality is what sets the Mighty apart from the rest, with smooth and flavoursome pulls offering a more satisfying smoking experience than cheaper vapes.
When you're looking for the perfect vape there are a lot of things to consider, but if you want extra vapor and a more potent hit (without needing to stir) the Mighty is a good bet. If you've ever tried this vape you will know that after smoking the bud from the chamber displays an even brown-tone from the heat.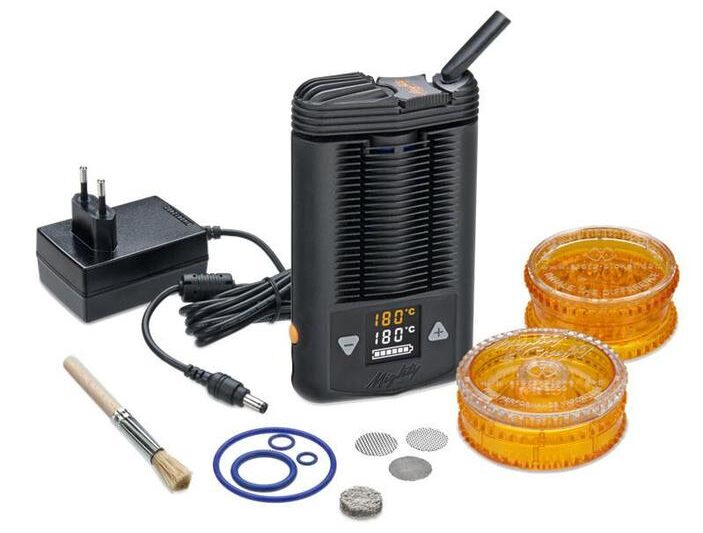 Advanced Heating Technology
This shows that the device has been designed to heat your bud perfectly, and thus achieve nearly the same effect as lighting up. To do this, the Mighty makes use of both convection and conduction heat methods, patented by manufacturer Storz and Bickel.
Additionally, the device features inbuilt grating, designed to keep it cool while you're holding it. The Mighty is incredibly easy to use and showcases a modern screen, so you can keep an eye on battery life and temperature. As an added bonus, the vape comes with an inbuilt safety feature that turns of the device automatically if you happen to forget.
Sturdy Build and 90 Minute Battery Life
Although the Mighty is slightly less compact than other vapes, it is small enough to fit in a backpack or handbag. As with all things in life, you get what you pay for, and investing in this vape will pay off over time. The build of this vape is highly durable and feels great to hold, but perhaps the best thing about the Mighty, is it's 90 minute long battery life.
The Mighty features among the longest battery lives of all vapes on the Australian market, and the new (post 2018) version of this device has 20 percent more power than its original predecessor. With so much battery life, you could vape for nearly two hours straight without needing to recharge.
Of course, this depends on what temperature you are smoking at, but for casual use you could probably make it through a weekend without recharging. However, if you did need to charge it, the Mighty can be vaped while charging. This is known as pass through charging and unless you have two vapes, you might want to prioritize this feature.
User Friendly Device Can Be Linked to Your Phone
While some portable dry bud vapes are not very user-friendly, the Mighty is not complicated to use at all. In fact, all you need to do to experience the wonder of this vape is to stack it, heat it and smoke it.
That being said, if you want to get more technical, you can link your vape to your phone with an app. This will allow you to monitor the temperature and battery life of your device, no matter who is using or where you are.
The Mighty Vaporizer's bowl takes around 0.3 grams of dry bud, which is slightly bigger than you will find in the Fury Edge. However, because of the convection heating method included, it isn't necessary to fill up the entire bowl (but you can).
The Mighty Vaporizer: Key Features
| | |
| --- | --- |
| MANUFACTURING COMPANY | Storz & Bickel |
| TYPE OF VAPE | Portable |
| TIME TAKEN UNTIL HEATED | 2 minutes |
| COMPATIBLE SUBSTANCES | Dry bud |
| HOW LONG DOES THE BATTERY LAST? | 51 – 91 minutes (temperature dependant) |
| HEATING METHOD | Conduction and convection |
| DIMENSIONS | 14 cm x 8 cm x 3 cm |
| TEMPERATURE | 40˚ C – 211˚ C |
| WEIGHT | 310g |
| POWER SOURCE | Battery |
| BOWL SIZE | 0.3 grams |