––––––––––
Pros
Powerful, delicious vapor
Free carrying bag
Whip for longer sessions
Herb or concentrates
Cons
High maintenance cleaning
––––––––––
The Silver Surfer desktop vaporizer is manufactured by Colorado-based brand – 7th floor. The model is top tier and was preceded by 7th floor's Da Buddha. The SSV is known for its thick flavoursome clouds of vapor, so if this feature is important to you read on to learn more.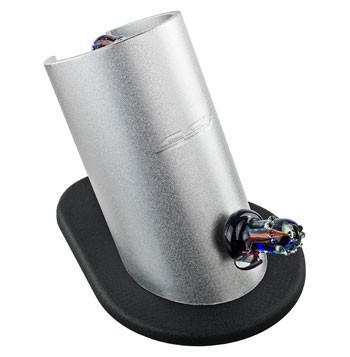 Premium Vapour
The SSV features a ceramic heating unit and all glass parts, which work together to enhance the quality of vapor. Depending on your temperature setting, you can expect to enjoy potent plumes of mist-like vapor.
It is possible to control vapor density with the temperature dial, although you may not always be able to replicate the last setting you used. In any case, you'll probably want to experiment with all different kinds of strains or essential oils – so you'd need to adjust the heat anyway.
Whip-Style Vape
The SSV comes as a whip style vape without alternative options. Thanks to the near-unlimited quantity of vapor that a whip-style vape can produce, you're going to want to prioritize this feature. Whips are better for longer sessions, although the limited range of the tube could make it difficult to puff puff pass. However, this shouldn't be a problem with the Silver Surfer because it comes with and extra 10 foot long cord!
Easy to Use
There is only one dial used for temperature control, and the knob is positioned in front of the device. While the unit is incredibly user-friendly, its not possible to gauge your exact temperature setting. As a result, you can simply put it to full heat, allow it to heat up and then setting the temp down again.
The device only takes around three minutes to reach full heat, which is pretty much standard for a desktop vaporizer. The SSV is best suited to paired vaping sessions, and can't really be used by more than 2 people comfortably.
Design Quality
The Silver Surfer is made of solid metal and feels very durable and sturdy. The style is simple yet effective and you can order customized hand blown glass parts directly from 7th Floor. The unit comes with a three year warranty, and the brands track record is excellent.
Dry Herbs and Concentrates
With the Silver Surfer vaporizer you can inhale both dry herbs and concentrates. This is good news for health nuts, because you can branch out into all kinds of different oils, including CBD or essential oils! For herbs you'll need to set the device to a third power, while for concentrates you could go up to two thirds.
Free Carrying Case
Although the desktop vape isn't designed to be portable, it actually is. Just because you choose to invest in a desktop vape it doesn't mean that you'll stay forever glued to your couch in a stoner coma! Sharing is caring, and with the free carrier case, you can take your vaporizer wherever the wind may blow you.
Keeping It Clean
As with all whip-style vapes, the only downside is that you will need to clean your whip regularly. It is in fact recommended to give it a scrub after every session with some rubbing alcohol. This helps to remove and build up from oils and herbs that may have accumulated.
Silver Surfer Vaporizer: Key Features
| | |
| --- | --- |
| MANUFACTURING COMPANY | 7th Floor |
| TYPE OF VAPE | Desktop |
| TIME TAKEN UNTIL HEATED | 3 minutes |
| COMPATIBLE SUBSTANCES | Dry bud, concentrates |
| DELIVERY METHOD | Whip/tube |
| CHARGING CABLE | Individual charger |
| WEIGHT | 1.5 kg |
| POWER SOURCE | Wall plug |