––––––––––
Pros
Battery life
Discreet
High quality vapor
Compatible with accessories
––––––––––
Following in the footsteps of its acclaimed predecessor the Fury Edge, Healthy Rips' new Rogue vape offers even more bang for your buck. As a result of its slightly larger design, the Rogue features a bigger bowl and battery, while offering a smoother draw. There are additional improvements that have been made to this dry herb device, so read on to learn everything there is to know about Healthy Rips' Rogue.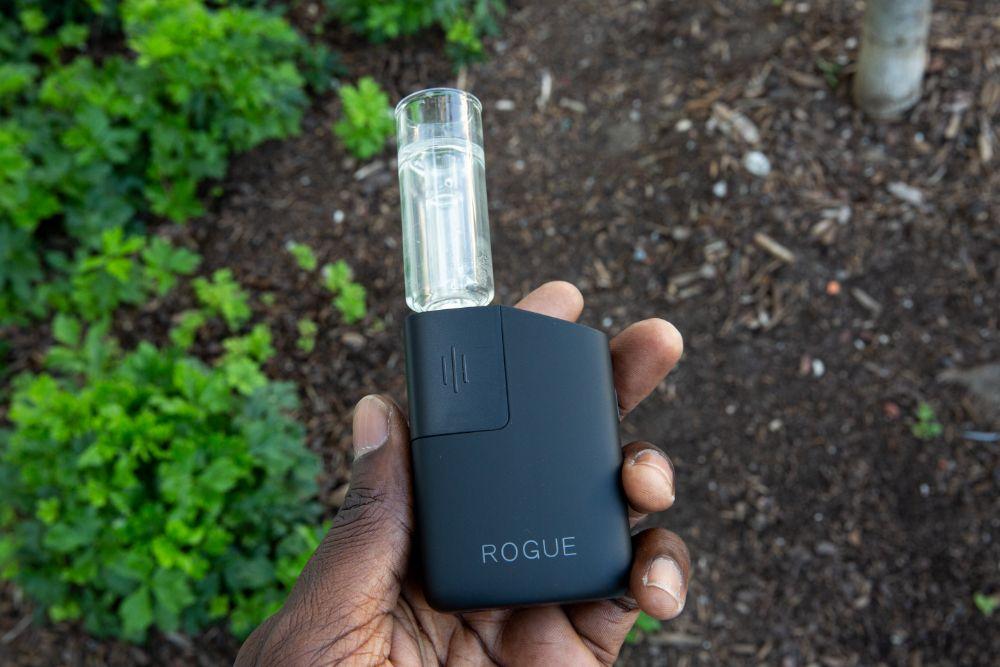 Powerful Vapor Clouds
The hybrid convection heating system of the Rogue will have you happily puffing away without too much draw resistance. The smoother pull gives way to dense clouds of delectable vapor flavour, enhancing the taste of your bud, no matter the quality of herb!
The updated chamber size is now a generous 13 millimetres, meaning you can load around 0.25 grams for one session. For its compact size, the Rogue produces vapor that is unrivalled by other vapes in its category.
With such premium vapor, this nifty device will keep you coming back for more, and won't have you missing more traditional inhaling methods. One of the key contributing factors to the Rogues flavour quality is the fact that the flower doesn't touch any plastic.
Improved Performance with a Bigger Battery
Bigger isn't always better, but in the case of battery life it is. This is especially true for more active vapers who like to take their devices out and about for extended periods of time. The longer a non-replaceable battery can last, the longer you can stay away from the plug point.
That being said, you can always invest in a portable power bank to pair with your Rogue. This will only be needed for day trips or nights out though, because the Rogue offers between 85 and 100 minutes of draw time.
When charging via the USB-C port, the device will reach its full capacity in less than 90 minutes. Once charged, it doesn't take long to heat up the Rogue, and the unit is ready to go in under 25 seconds flat. Be aware that this vape does not feature pass-through charging, so if you're the forgetful type, this might not be for you.
No-Fuss Design
The simple and straightforward user friendly design make this vape really easy to use. All you need to do is crush your bud, load it into the chamber, heat it up and take a hit. Alternatively, you can purchase the dosing capsules that go with the device.
Either way, before you know it you'll be sky high. The Rogue is super simple to operate and features three buttons that can be used to control power, temperature and session times. You can choose whether you'd like to display Celsius versus Fahrenheit, as well as the orientation of the display.
Accessories Available
Healthy Rips offers a range of accessories that are compatible with the Rogue – all of which take the place of the standard mouthpiece. You will need to order and pay for these accessories separately, but if you so choose you can enjoy a bent or straight glass mouthpiece, a glass bubbler or glass 3D flow stem. You can also purchase dosing capsules, WPA, O-Ring screens and much more.
Rogue: Key Features
| | |
| --- | --- |
| MANUFACTURING COMPANY | Healthy Rips |
| TYPE OF VAPE | Portable |
| TIME TAKEN UNTIL HEATED | 25 seconds |
| COMPATIBLE SUBSTANCES | Dry herbs |
| HOW LONG DOES THE BATTERY LAST? | 85 – 100 minutes |
| HEATING METHOD | Conduction and predominantly convection |
| DIMENSIONS | 92.5 x 57.8 x 30.1mm |
| TEMPERATURE | 138°-221°C |
| WEIGHT | 190g |
| POWER SOURCE | Battery |
| BOWL SIZE | 0.2 grams |