––––––––––
Pros
Versatile
11 LED lighting modes
90 second heat- up time
–––––––––
The Super Surfer Vaporizer is manufactured by 7th Floor Vapes, and took a number of years to come to fruition. 7th Floor Vapes started as a small company that has been growing rapidly since they began to produce some of the best vapes in the world. The company makes both desktops and portable vapes, and the Super Surfer Vaporizer is among the best of the best.
Not to be confused with the Silver Surfer Vaporizer, the Super Surfer is one of the most versatile desktops around. The unit comes with a forced air system which can be used with either a whip or a balloon. The base of this device lights up and comes with various lighting modes to add an extra ambience to your session.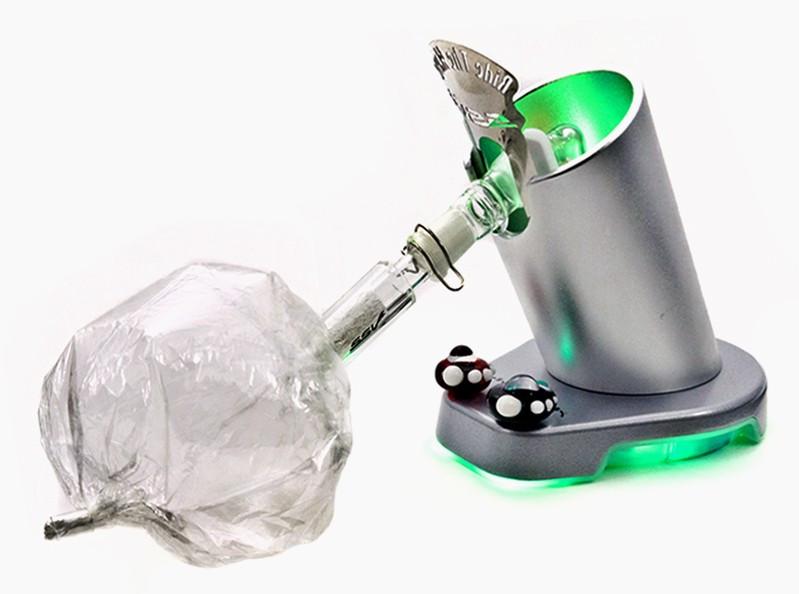 Design Features
Similar to its predecessor (Silver Surfer), the Super Surfer Vaporizer is much bigger while also being made of stainless steel. The two analogue knobs on the base display are used to control the temperature and fan speed of the vaporizer.
There are 11 LED lighting modes which can flash, slowly fade or simply maintain one colour such as blue, yellow, purple, green or red. It is possible to customize the exterior of your Super Surfer desktop vape with an upgrade and the glass mouth piece can be engineered to your exact specifications.
Compatible with Whip or Balloon
The forced air system allows users to attach a balloon to the unit, or you can use the three foot whip instead. There are advantages to using a whip such as not having to fill an entire balloon, which makes for a more efficient smoking experience.
90 Second Heat-Up Time
The ceramic heating plate allows the Super Surfer to reach high temperatures steadily, and to maintain said heat on a low power for a long time. As a result the herbs are baked to perfection, and you don't need to worry about your bud getting burnt. The air filtration system makes for a vaping experience free of dust and debris.
Accessories
The Super Surfer comes with a bunch of accessories in the box, in fact there are so many that the vape is unrivalled in this category. If you're looking for an all-in-one desktop vape, this might just be your best bet.
Included in the box is a 3 inch plastic whip complete with mouthpiece, a ten inch roll of food grade plastic balloons, replacement screens and much more. You will also find a range of glass accessories including a mouthpiece, bowl, wand, seal, whip mouthpiece, sleeve and glass whip wand with bowl.
To top it all off, included in the box is a pick (for stirring with), an instruction manual with a 1 year warrantee, ceramic flavour discs, hands free attachments and whip tubing made of vinyl. Additionally, you will get a sit clip, a wax melt diffuser and a nice padded storage bag.
Outstanding Vapor Quality
The Super Surfer is known and loved for its premium vapor production and quality. With this desktop vape, the smooth clouds of flavour will soon be pouring through your lips. This vape is a good choice for both solo and group vaping, and can be used for both.
Dry Bud and Concentrates
7th Floor's Super Surfer can take both dry bud and concentrates for the ultimate versatility. This is an awesome option for cannabis connoisseurs who like to experiment with different forms of the herb. It is also super handy if you're so broke from buying your new vape that you have to rely on your friend's donations.
Super Surfer Vaporizer: Key Features
| | |
| --- | --- |
| MANUFACTURING COMPANY | 7th Floor Vapes |
| TYPE OF VAPE | Desktop |
| TIME TAKEN UNTIL HEATED | 90 seconds |
| COMPATIBLE SUBSTANCES | Dry bud, concentrates |