––––––––––
Pros
Small and convenient
90 min+ battery life
For dry herb or dabs
––––––––––
If you're looking for a beautiful vape with oodles of aesthetic appeal, the Pax 3 vaporizer is for you. The small and sleek design of this vape makes it the perfect choice for anyone who resonates with the pronoun "her" and exceptionally long battery charge.
Most vaping women would love this tiny cute vape that fits into a handbag and yet still packs a powerful punch. Of course, these days even the most macho alpha male could get away with using a small and curvy vape, so long as he isn't concerned with what others think. 
More: How to pick the perfect vape – a comprehensive flowchart
Key Features
The Pax 3 follows on from the Pax 2, and both models were engineered at PX Labs – a company known and loved for its exquisitely modern vapes. The newer model showcases a longer-lasting battery, an improved heating time and a Pax Concentrate Insert.
For those of you new to the world of vapes, a Pax Concentrate Insert is an accessory that allows you to switch the dry bud door with a dish, so that you can vape herbal concentrates. This means that the device can be used for both dry herb and oil concentrates, whether CBD or THC dominant.
The Pax 3 also features haptic feedback, which means that it vibrates when the heat-up time is complete. This setting can be controlled via the Pax Vapor app, as can the temperature and modes. Modes include stealth, efficiency, flavour and boost.
Pocket Size with a Strong Build
One of the smaller vapes on the market, the Pax 3 is incredibly sleek and easy to hold.. The overall design is user friendly as well, and all you need to do is load your concentrate or bud into the bottom section, then press the button on top.
Not only is the Pax 3 super pretty, but it is incredibly discreet and features a ton of technology that make it among the top choices of compact vapes in Australia. This handy gadget is truly state of the art and can be used on the go. What's more is that the Pax 3 is stronger than the average vape, with a superior build quality that backs a 10 year warranty for material defects or workmanship.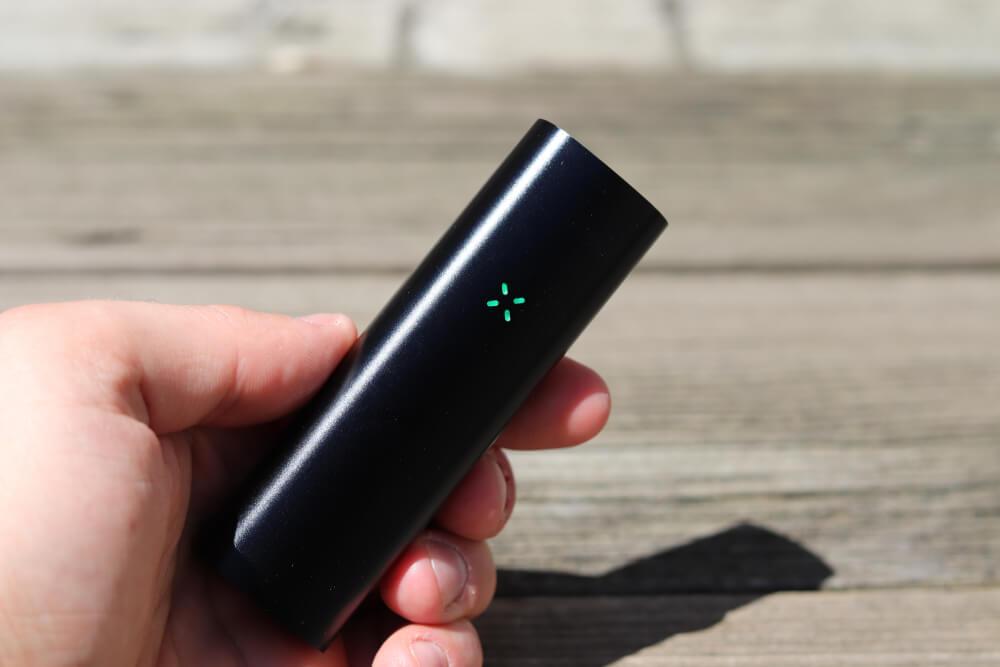 Good Vapor Production
There's nothing quite like the feeling you get when exhaling a huge cloud of vape on a night out, a rainy day or just for fun. With the Pax 3 you won't be disappointed, and this powerful package can deliver big plumes of vapor.
Of course, you need to make sure that you are using your vape properly, and grinding your herbs fine enough if you are using dry bud. If done correctly, the crushed flower will turn completely brown after being heated, which shows an even heat distribution.
90 Minute Battery Life and Charging Dock
No smoker (or vaper) wants to run out of access unexpectedly. For this reason a long-lasting battery life is highly recommended if you're buying your first vape. With the 3500mAh battery, you can expect your vape to last around ninety minutes.
This depends on whether or not you keep the temperature too high, but for a vape this is a good amount of battery life. The charging dock is great for fast charging so you don't have to fiddle around with chargers.

Pax 3 Vaporizer: Key Features
| | |
| --- | --- |
| MANUFACTURING COMPANY | PX Labs |
| TYPE OF VAPE | Portable |
| TIME TAKEN UNTIL HEATED | 15 seconds |
| COMPATIBLE SUBSTANCES | Dry bud and concentrates |
| HOW LONG DOES THE BATTERY LAST? | 90 minutes (temperature dependant) |
| HEATING METHOD | Conduction |
| DIMENSIONS | 10.5cm x 3.6cm x 2.2cm |
| TEMPERATURE | 130°C-202°C |
| WEIGHT | 95g |
| POWER SOURCE | Battery |
| BOWL SIZE | 0.3 grams |