––––––––––
Pros
3 second heating system
Small and compact
Easy to clean
––––––––––
The Firefly 2 Plus is a vaporizer that is making waves for it's features and gorgeous design. The vape showcases a near-instantaneous heat-up time that remains unrivalled within its price category. Additionally, the latest model is an improvement on its predecessor in so many ways, all while maintaining the same small shape.
To make matters even better, this vape can take both concentrates and dry bud! This means if you like to experiment that you can have the best of both worlds. Perhaps you want to use CBD concentrates and marijuana buds or vice versa, the choice is up to you.
More: How to pick the perfect vape – a comprehensive flowchart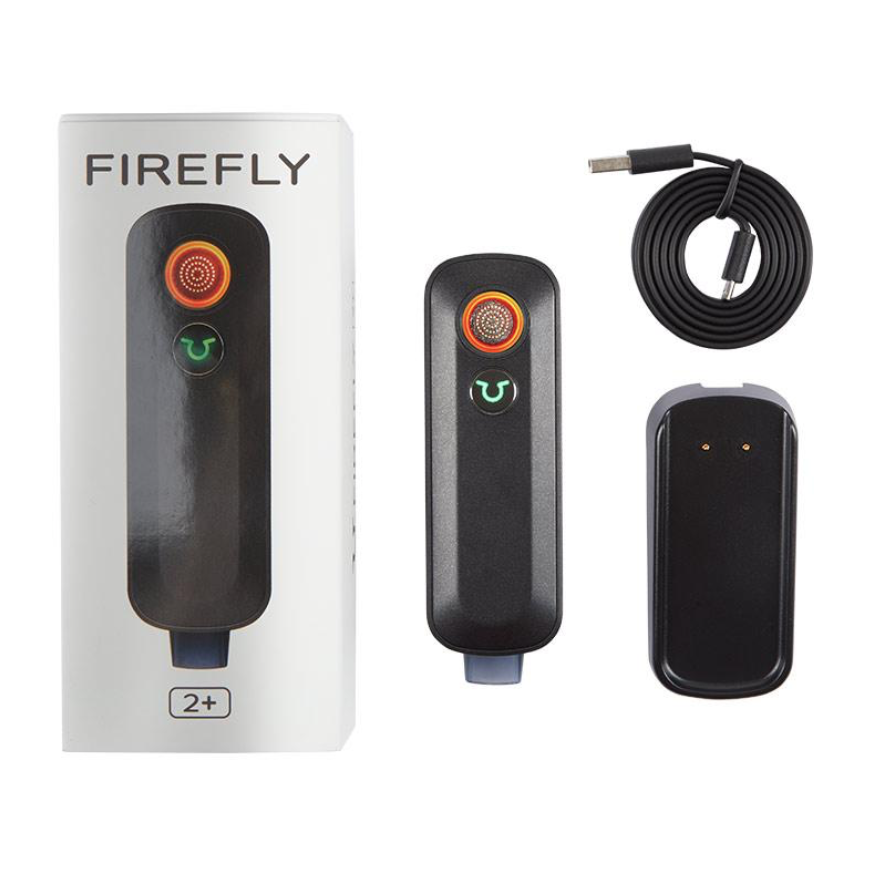 3 Second On-Demand Heating System
Most high quality vapes take between 20 seconds and 2 minutes to heat up, but the Firefly 2 Plus is ready in a mere 3 seconds. In fact, to be perfectly fair, this could in some scenarios be quicker than actually lighting up.
For starters you don't have to search for your continuously misplaced lighter, you don't need to battle the wind and your matches won't run out. As an added bonus, this type of advanced heating system makes it possible to microdose on the go.
This means that you can simply enjoy tapping into one bowl from time to time, instead of having to finish the whole hit. For those who prefer to inhale this way (possibly the only way if you're out and about) the Firefly 2 Plus is an excellent choice of vape.
The way that this system works is by heating the dry bud within the chamber quickly, an effect that can only be successfully attained with convection type vapes. This is because conduction-style vaporizers will heat the whole bowl at once.
Billowing Clouds of Flavour
Because Firefly's range use convection style heating, the vapour produced by their vapes is exceptional. As an added bonus, the latest Firefly model showcases increased airflow of up to 33%, making it super easy to pull.
The dynamic convection feature means that when you inhale the temperature rises up to maximum settings. As a result the flavour of your bud or concentrates is enhanced and the vapor flows through smoothly.
User Friendly and Easy to Clean
The Firefly 2 Plus is easy to use due to a simple design with only two buttons. All you need to do is to push on the buttons to switch it on or off, or to control the temperature. Like most modern vapes, the Firefly 2 Plus can be linked to your phone for a smart vaping experience.

Another perk worth mentioning is how easy this vape is to clean. Dry bud vapes can get messy if not looked after properly, and the Firefly 2 Plus is no exception. To avoid this, simply sweep the bowl out after a session, wiping it every day with an alcohol swab.
Speedy Battery Charge
This nifty vape comes with a 770mAh inbuilt battery which offers around 70 pulls of pleasure in one charge. What makes it so special is that it can charge to eighty percent in only 20 minutes, so it could probably easily get one person through a day.
The remaining 20 percent however takes 45 minutes to charge, so around an hour's charging time in total. It should be noted that this is faster than the average charging time of other vaporizers on the market.
Firefly 2 Plus Vaporizer: Key Features
| | |
| --- | --- |
| MANUFACTURING COMPANY | Firefly |
| TYPE OF VAPE | Portable |
| TIME TAKEN UNTIL HEATED | 3 seconds! |
| COMPATIBLE SUBSTANCES | Dry bud and concentrates |
| HOW LONG DOES THE BATTERY LAST? | 6 or 8 bowls of dry bud |
| HEATING METHOD | Dynamic convection |
| DIMENSIONS | 13cm x 3.6cm x 2.4cm |
| TEMPERATURE | 171°C – 260°C |
| WEIGHT | 140g |
| POWER SOURCE | Battery |
| BOWL SIZE | 0.15 grams |