––––––––––
Pros
Battery Life
High Quality Vapor
Heat-Up Time
––––––––––
The Arizer Solo 2 Vaporizer is manufactured by the reputable Arizer brand, and follows on from the wildly popular Arizer Solo. The original model which was released around six years ago has claimed the number one spot in markets around the globe.
The Arizer Solo's success can be attributed to it's sturdy frame, handy size and voluptuous clouds of vapor. The Solo 2 maintains the look and feel of it's predecessor, while offering an LED screen, unrivalled battery life and new aesthetics.
More: How to pick the perfect vape – a comprehensive flowchart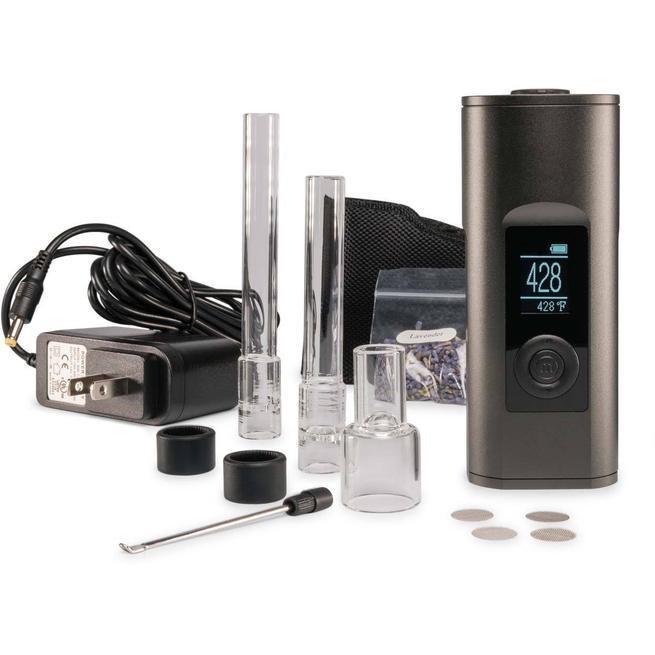 Outstanding Battery Life (Lasts 3 Hours!)
When investing in a vape you're going to want to consider every last detail, but one of the most important features is battery life. If you enjoy smoking regularly or you like to go out a lot, you can benefit from this advanced technology the most.
Of course, you can alternatively go for a vape with a shorter battery life and spend more on a power bank. However this is the less compact option, and most people don't have space for multiple devices in their pockets alone.
The Arizer Solo 2 has pass-through charging, which means that if you're really in a jam you can simply puff while you recharge. However with three hours of battery life you're unlikely to need to resort to that – with the device recharging near-instantaneously in any case.
Voluminous Vapour
Another key feature in any portable vape (perhaps even more important than battery life) is the quality of vapour. For those wishing to replace joints or cigarettes entirely, vapour satisfaction can be the difference between success and failure.
More and more research is emerging that indicates vaping is way healthier than smoking, but at the end of the day forming new habits can be hard. If you're wanting to support yourself in a healthier lifestyle, make sure you invest in the best vape you can afford.
The glass stems of the Arizer Solo 2 are nearly identical to those of the original model, due to their widespread success. The stems house around 0.2 grams of dry bud, which is the equivalent of a very small jiggy or a big hit from a waterpipe.
Fast Heat Up Time and Temperature Control
Reducing the heat-up time from 3 minutes to 30 seconds, the Arizer Solo 2 is a clear improvement on the original Solo. A 30-second heat up time isn't quite as fast as the 5 second Firefly 2, but it isn't too long to wait in the grand scheme of things.
Both models come with 7 different temperature settings ranging from 50˚C – 210 ˚C. The Solo 2 showcases temperature settings that can be controlled to the degree, which comes in handy for an endless stream of different strains.
User Friendly
If you're looking for a premium dry bud vape, then this tried and tested device might just be for you. Instead of having to download a compatible app like you have to with most other vapes, the Arizer can be used via an OLED screen display.
Here you can control the temperatures and monitor battery life – as well as sound, brightness and metrics. The Solo 2 is shaped like an oval, meaning that it is easier to hold than the Solo original. The sleek, stainless steel body remains cool even during long sessions.
Arizer Solo 2: Key Features
| | |
| --- | --- |
| MANUFACTURING COMPANY | Arizer |
| TYPE OF VAPE | Portable |
| TIME TAKEN UNTIL HEATED | 20 seconds |
| COMPATIBLE SUBSTANCES | Dry herbs |
| HOW LONG DOES THE BATTERY LAST? | 3 hours |
| HEATING METHOD | Conduction and convection |
| DIMENSIONS | 11.4 cm x 4.5 cm x 3.5 cm |
| TEMPERATURE | 50°C-220°C |
| WEIGHT | 210g |
| POWER SOURCE | Battery |
| BOWL SIZE | 0.2 grams |