By Christian Sculthorp, Founder & Chief Product Tester, VaporizersDirect
10 years ago, if you shopped around for a vaporizer there were only a couple options. You had the choice between a no-name vaporizer that looked like a box (and was probably unsafe to use), or a high-priced volcano that you needed a second job to pay off.
Now in 2018 things have changed. Volcano vaporizers are still awesome (and they went portable), but there's a lot more competition and heaps of vaporizers to pick from… so many that it can actually be overwhelming to choose.
Should you go with an Arizer Solo 2, Pax 3, Boundless CFX, Sticky Brick Junior, Grasshopper, Xmax V2 Pro, Herbalizer, Dynavap, VapeXhale? That list doesn't even scratch the surface of what's available. It feels like you need a PhD in vaporizers to figure it all out.
Well, luckily we've put together a flowchart that will help you sort it all out. Just start at the top and work your way down to find the perfect vaporizer for you.
There are a few things you should keep in mind before you get going:
1. All of these vaporizers can handle herb, but not all of them can handle concentrates (oil). If you need one that can handle liquids make sure you pick one in the flowchart.
2. "Vaping through glass" means using a bubbler attachment on the vaporizer. If you're new, don't worry about it. If you're an experience vaper and want to know more… Google it.
3. Portable vaporizers are generally either battery powered or butane powered. Batteries are easier to use but butane gives you the ability to go on long trips without worrying about charging your batteries.
That's about it. Now go find your perfect vaporizer!
—
Are you in the UK? Check out the Flawless Vape shop here. 
—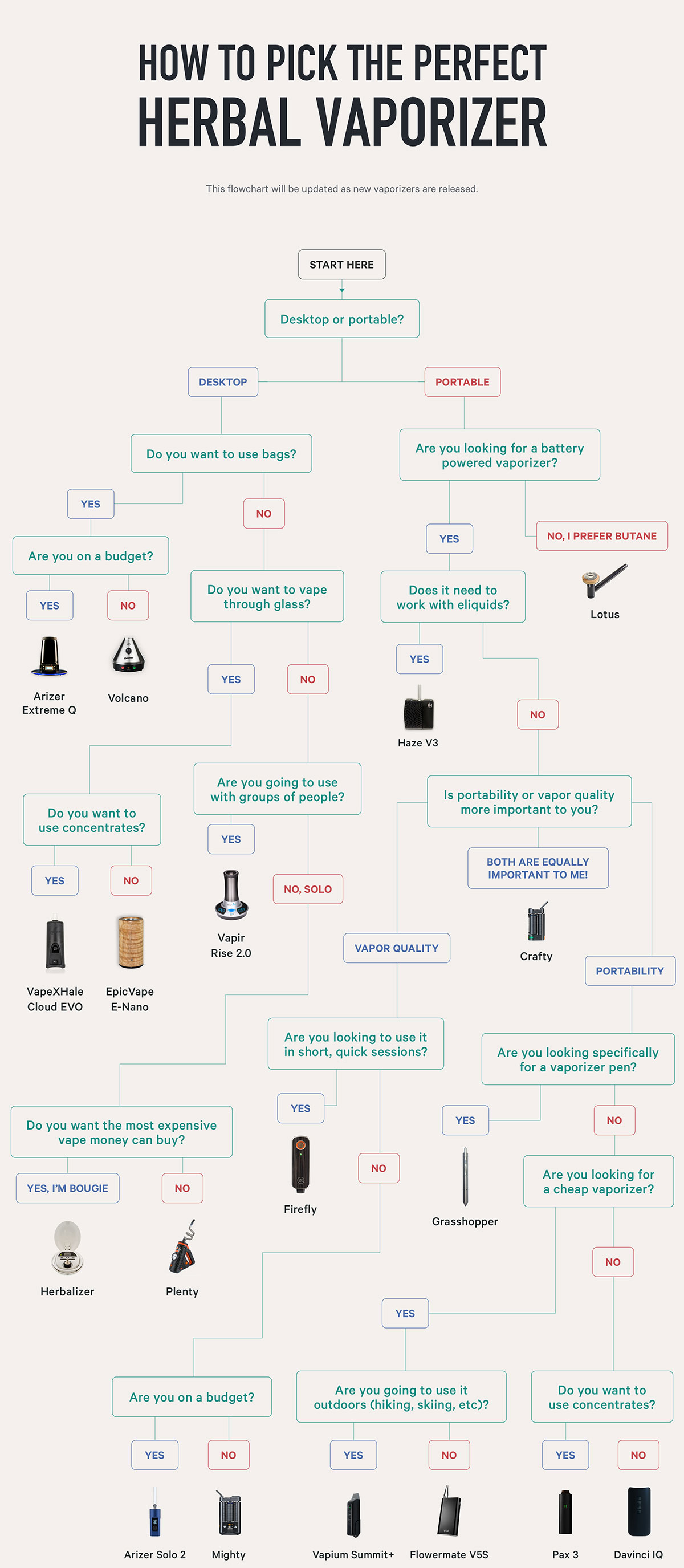 Designed by VaporizersDirect.com.au.