Preliminary findings from a new report cultivated by the Washington State Institute for Public Policy (WSIPP) indicate that youthful marijuana consumption did not increase after voters passed the state's adult use marijuana initiative in 2012.
MORE: Turns out Baby Boomers love their billies
As part of the passage of Initiative 502, the WSIPP is obligated to produce recurring reports for the legislature's review in "2015, 2017, 2022 and 2032."
These insightfully compiled data points are intended to provide a glimpse of the overall cost-benefit analysis of Washington state's legalisation efforts, examining teenage marijuana use and the state's drugged driving data, as well as looking for any increased marijuana use among parents.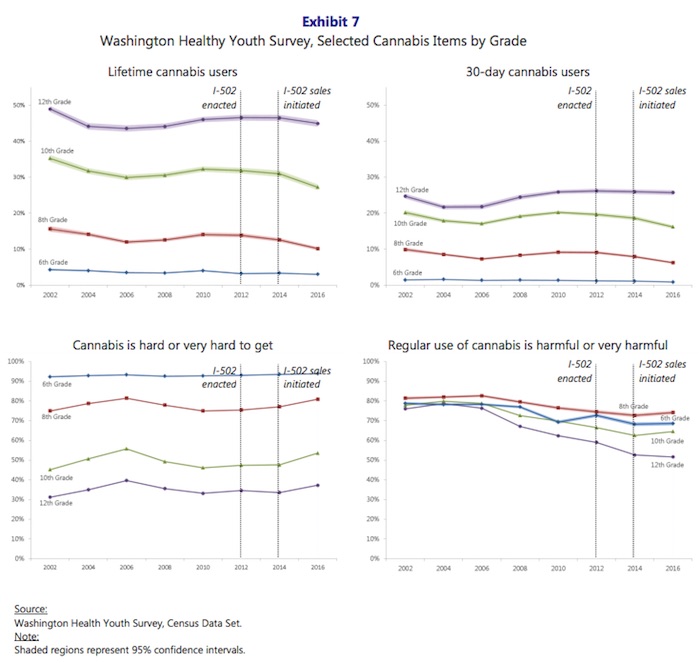 "The report arrives shortly after U.S. Attorney General Jeff Sessions criticised implementation of legal pot in Washington," according to the Seattle Times.
"In my overall appraisal, there's not much evidence I-502 has caused changes in the outcomes we looked at, said Adam Darnell, the report's lead researcher." Darnell contradicts the AG's recent letter that cites findings from a 2016 report by the Northwest High-Intensity Drug Trafficking Area (HIDTA).
Per the HIDTA report, the youth impacts of legal marijuana in Washington are:
• One in five 10th grade students reported riding with a driver who had used marijuana – 9% reported driving within three hours of consumption
• During 2013-2014, 48% of statewide student expulsions and 42% of suspensions directly involved marijuana
• 98% of the student drug violations within the Seattle Public Schools from September 2013 to May of 2014 involved marijuana
• In 2014, youth under the age of twenty made up 45% of statewide Poison Centre calls – since legalisation in 2012, these calls have increased to 80%
• Youth treatment admissions for marijuana have remained between 66% and 70% of overall admissions since 2010
But an up-to-date "snapshot" examining the ramifications of legalised marijuana by the WSIPP indicates the following:
• I-502 did not elevate cannabis abuse treatment admissions
• I-502 did not increase youthful marijuana use
ª I-502 led to increased cannabis sales and consumption over the past 30 days for respondents 21 and older who reside in certain counties
The report generated by the Washington State Institute for Public Policy utilised data gathered by the Washington Healthy Youth Survey (HYS). Administered on a biannual basis on even numbered years, the HYS found youthful marijuana consumption "in grades 6, 8, 10, and 12," has been "stable or fallen slightly" since I-502 was passed by Washington's voters.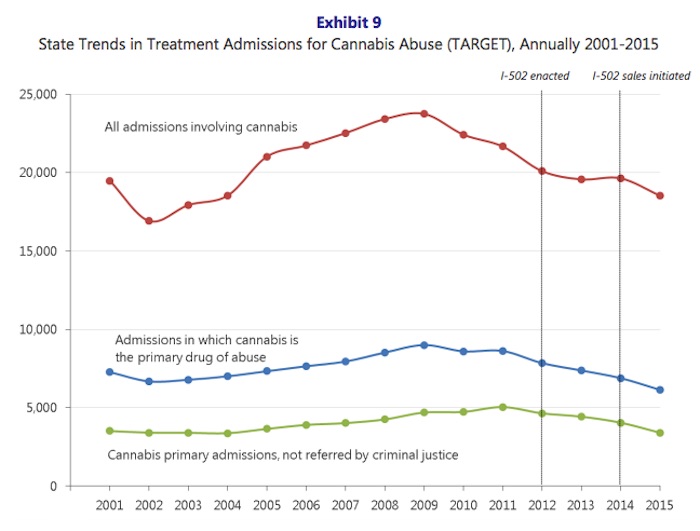 Down dramatically, Washington's data indicates the number of state-funded admissions for abuse of marijuana in the Evergreen State has fallen since 2008; the number fell in the three years following the enactment of I-502, tumbling from 7,843 in 2012, to just 6,142 in 2015 (the most recent year available).