With experimental and synthetic drugs down under seemingly on the rise, the media is awash with sensationalism over the dangers they potentially bring. Researchers Stephen Bright (National Drug Research Insititute) and Monica Barratt (National Drug and Alcohol Research Centre) have a look at the rise of new drugs. 
Recent media reports have suggested Australia is set to be flooded with new types of deadly "synthetic" drugs.
Don't worry, as far as we know, there's no "turbo-charged version of ice" on its way. And we need to steer clear of drug-related moral panic, which increases stigma and makes it harder for users to seek help.
But there is a potential for significant harm in Australia if we don't have adequate systems in place to monitor our drug markets and respond rapidly when specific dangers are detected.
So what are these so-called "synthetic" drugs? And how are they changing the illicit drug landscape?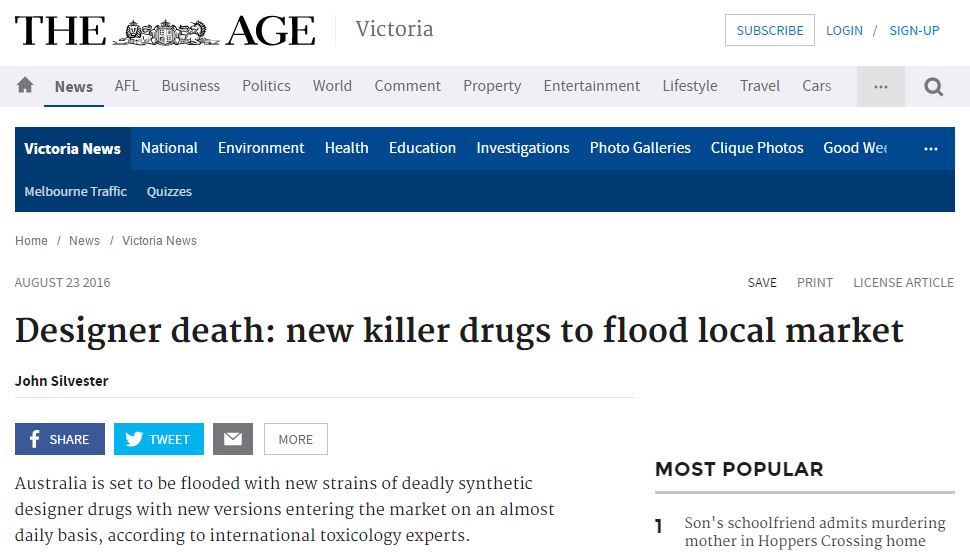 The facts about new drugs
Since 2009, we have detected an increasing number of drugs that are designed to circumvent the law and are cheap to produce. By selling these new drugs as traditional drugs, manufacturers have been able to make large profits.
Take the emergence of NBOMe drugs, for example. These were first sold as LSD in Australia in 2012. Australians can now buy NBOMe from drug cryptomarkets in bulk for 36 cents per dose, which can be sold as LSD for A$10-A$20 per dose.
Further reading: Explainer: what is NBOMe?
Young people have increasing access to new drugs about which we have little information.
One example is synthetic cannabis. More than 40 Australian legislative changes have tried to ban synthetic cannabis, yet it is still available. However, the toxicity of synthetic cannabis has increased as manufacturers use novel chemicals after each legislative change.
Fortunately, people have become more aware that synthetic cannabis can be harmful and are using it less.
But the number of people seeking emergency medical attention for synthetic cannabis continues to grow. The risk of needing emergency medical treatment when using synthetic cannabis is now 30 times greater than for those who use regular cannabis.
The situation is only made worse by the "iron law of prohibition". When a drug is prohibited, manufacturers look for drugs that are active at lower dosages since this makes them easier to smuggle. If it's active at a lower dose, you need less of it. During prohibition of alcohol in the United States, people were not brewing beer, they were brewing moonshine.
When it comes to heroin, drugs such as fentanyl have a similar effect, but are much more potent and cheap to produce. It makes economic sense for people to import these chemicals and sell them as heroin.
North America has had a massive spike in the rate of people overdosing from fentanyl-like drugs, most of which are sold as heroin. In some cases these drugs are 100 times stronger than fentanyl (or 5,000 times stronger than heroin).
These drugs are also appearing in counterfeit pain medicines in the US. While the singer Prince overdosed on fentanyl, he also had a much stronger drug called U-47770 in his system.
What do we know about new drugs in Australia?
According to Australia's 2013 household drug survey, 1.2% of Australian adults reported use of synthetic cannabis products and 0.4% reported use of other "new and emerging psychoactive substances" in the past 12 months.
However, surveys can only provide information on "known" or "intentional" use. There is likely to be a much larger number of people who are using new drugs without knowing.
There have been seizures of a drug called W-18, for example, that could have been destined as counterfeit heroin. Some experts have also linked a recent spate of heroin overdoses across Australia to fentanyl-like drugs.
Wastewater analysis shows that Australians are using a range of novel psychoactive substances such as methylone, even though very few Australians report using these drugs. A likely explanation is that they have been sold it as ecstasy.
Again, wastewater analysis provides information only about drugs we already know of.
So what do we need to do?
Fear-based campaigns are counterproductive and may even lead to increased drug use.
What is needed is evidenced-based approaches to reduce harm. For a start, Australia could begin testing drugs as part of a drug-monitoring system aimed at improving public health and safety.
In the Netherlands, testing services for consumers guarantee anonymity and legal protection to donate samples, describe what they believe it is, and get test results on what it actually contains.
If implemented here, this system would give us unparalleled data on the nature and characteristics of the discrepancies between expected and actual drug composition. Combined with forensic testing of police seizures, this monitoring data would allow us to see changes in the drug market and respond rapidly.

—
Stephen Bright, Adjunct Research Fellow with the National Drug Research Institute, Curtin University and Monica Barratt, NHMRC Post-Doc Research Fellow, National Drug and Alcohol Research Centre, UNSW Australia. This article was originally published on The Conversation. Read the original article.