Melbourne psych rockers Seedy Jeezus are this weekend hitting Sydney for the first time this year. We caught up with drummer Mark Sibson to talk about their upcoming album, partying across Europe and more.
MORE: Melbourne rockers Seedy Jeezus are coming to Sydney
You've been labelled "an acid blotter on the tongue of Jimi Hendrix" before. What else could we find in Hendrix's mouth?
Short of more bacteria than the world's population, there's a good chance you will find teeth, gums, saliva, and that big tongue type thing, the, um, tongue. Oh and probably these: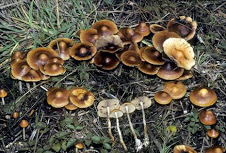 MORE: Ordering a 'shroom kit' and growing your own is piss easy in Germany
How was touring Europe? What's it like partying in a completely new country? Is it hard to find weed?
It turns out people in Europe are exactly like us… except they speak funny, their buildings are older, their animals and trees are different, and they do not get Rodney Rude jokes.
One thing in common (other than partying) is they like to rock. And I mean rock hard. With a population of over 500 million you know you are potentially gonna get 20 people for every one person you might get to gig in Australia.
On tour, they cover your accommodation, provide you with meals, and pay you more than enough money to get to the next city. If you're playing in countries like Germany and Belgium you know the free beer they're giving you is quality stuff. One place we played at said: "We will get you anything you want…and I mean anything." It turned out that statement was true.
Then of course there's playing in the Netherlands. Let's just say that place is like Australia without certain rules and regulations. No doubt you have heard how easy it is to legally buy things there that are not so legal in Australia. I'm sure plenty of touring bands would take advantage of such. The people there are beautiful. And when it comes to partying, they are "experienced". In fact everyone in Europe was beautiful, and "experienced" (wink wink nudge nudge). We are planning to return there in 2018.
Your self-titled debut dropped in 2015, and last year you put out Tranquonauts with Earthless's Isaiah Mitchell. When can we next expect a release from you?
Being on an album and playing with Isaiah was magical. Full love and respect for that guy. Phenomenal guitarist and person! Tranquonauts worked out really well. We set up in the studio and just pressed record. We didn't even know what was gonna be on there. Our minds (at the time) basically.
Our second full-length album is now in the bag and next to be released. Since we have released five 12" records in two years, we thought we best keep up the trend and record another record. The album was recorded at Studio One.Be in Melbourne in January. And we flew Tony Reed from Mos Generator (USA) out here to produce it. He produced our debut album too. And man he knows his stuff! Expect to see the new album in the stores and online later this year or early next year.
What's the best track ever to go with a doobie?
I have been told anything by Pink Floyd (not including Seedy Jeezus) will help with your experience. Probably more 60s/70s Floyd. Then of course listening to that shit straight will get you there anyway. Anything by Air is apparently good, too.