Evergreen Artists' Michael Mckiernan speaks with US rapper, entrepreneur, radio host and cannabis lover Phone Homie.
Phone Homie hosts "The Slab Hour" on WLVS Radio. You can catch him on Facebook, Twitter, Instagram, YouTube and on his website. 
Tell us a little bit about yourself.
My name is Rico Valderrama aka Phone Homie. I own the Phone Homie brand and run a radio show called "The Slab Hour". I also own a small extract company called Dabber Hashery Extracts.
Where does Phone Homie come from?
The name "Phone Homie" came about because I used to roll big blunts… they were pretty much as large as ET's finger. I was at the 25th Annual Cannabis Cup in 2012 and I jumped on stage with Wu-Tang Clan's Ghostface Killah. After I finished rapping, the crowd went wild and I threw up onstage. That moment was basically the catalyst for the Phone Homie clothing brand.
I came to the conclusion that legalisation was bound to happen soon enough and I asked myself, "How can I legally sell weed?" I thought the best option was to start a cannabis clothing company. The idea was to put out designs that weren't blatantly weed-based, but if you are in the 420 scene you would look at the designs and be like, "Hey, that's a weed t-shirt." We wanted to take the negative stigma away from cannabis and create more confidence to discuss it openly.
How did you start out in the cannabis industry? 
It really all began with me rolling around the coffee shops in Amsterdam. My personal experience with cannabis started very early on in life, mainly in the black market in New York. We always had to duck and hide. However, I was always the person to blatantly smoke in public. My desire was to remove the negative stigma from cannabis and bring it into the open.
After I returned to the US from Amsterdam, I started getting judges kits for events like High Times. It helped me network greatly and to be in the right circles. From there, the rest is history.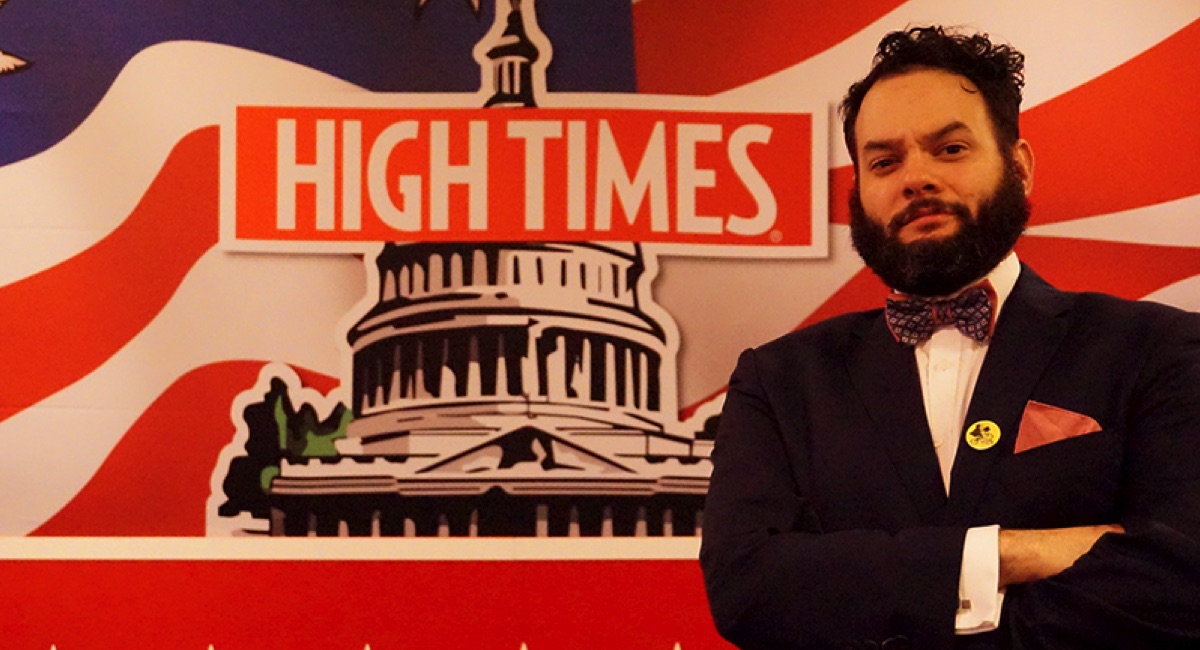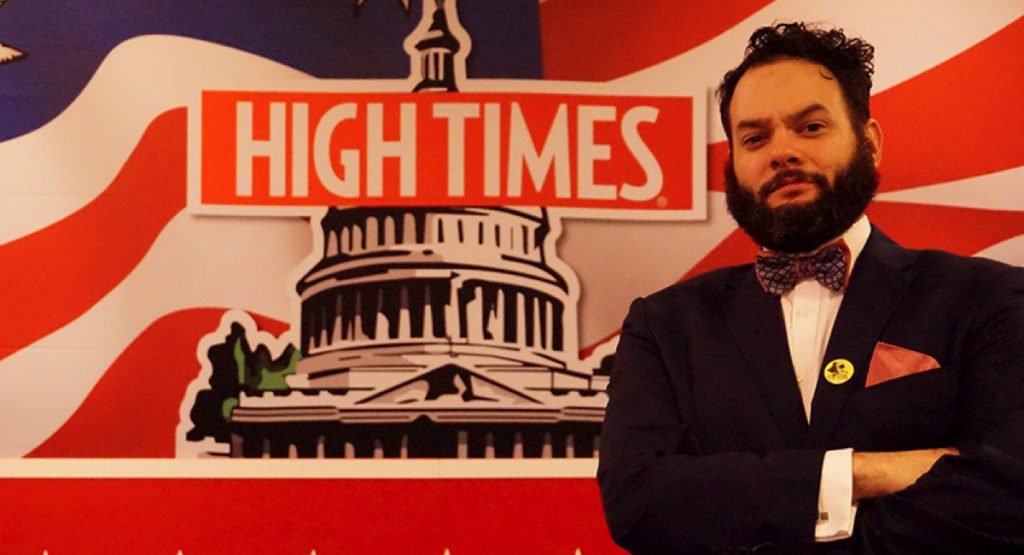 What inspired you to start your radio show "The Slab Hour"?  
Actually I didn't want to do that show [laughs]. I used to work with DJ Boom as a retail manager, and he had offered for me to run their first cannabis show. I had no experience with radio, but he pushed me to do it. My only real reason for wanting to do the show was because I wanted to go live-to-air and take big-ass dabs! So really, taking large dabs on-air sucked me in!
What are your concerns for the future of recreational and medicinal cannabis in the US?
Well, it's on the line unfortunately. We're back to sitting on the fucking fence and it's kinda scary because all the work that we've done is now in jeopardy of being reversed. It seemed that President Trump was going to honour the current laws surrounding cannabis. However, that is of course changing. We are seeing cannabis events being shut down in our district. We are currently just biding our time. All we can really do is watch.
What advice would you give to the developing cannabis industry in Australia?
Spread the word about cannabis legalisation constantly. You must talk about it openly, with as many people as possible. Stay loud! If there is an opening in a conversation to educate someone about cannabis, then do it.
Educate yourself on the current laws in your part of the world. You will then understand who are the correct elected government officials to address your argument. Understand who is running for office that supports cannabis and vote for them. You need to know where to direct your voice!
Apart from that I would recommend people educate themselves on the processes of cultivation/extraction being conducted in parts of the world where cannabis is legal to ensure you are ready for when legalisation does occur.
What do you see as the future of cannabis?
What I would like to see is for it to go full blast. I want there to be a worldwide market for everyone, both medical and recreational. I want to see cannabis saving lives. I want cannabis to be as common as a glass of water. However, it looks like we still have a lot of obstacles to get over.
Flower or oil?
710 all day man! It started with flower, but now, dabs all day. I am a TERP SLUT!